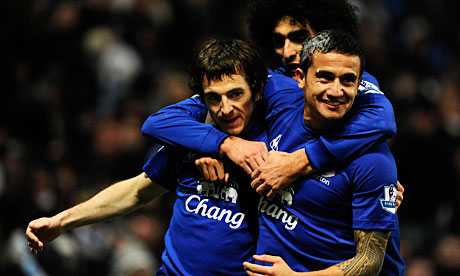 (Photo source: The Guardian)
So a while back I decided Leighton Baines is my football hero when it comes to the library profession. (Yeah, that doesn't make much sense, but work with me, OK?)
I've been trying not to feel sorry or down this past month, but holy cow are there too many deadlines. I joked that I sort of don't care about the holidays because of SLA and TRB commitments, but that is strangely accurate. Anyhow, I've done it again… said yes to way too much forgetting what happens in December – it all come raining down and it seems insurmountable.
That was sort of the situation Everton had this week when they travelled to Eastlands to face Manchester City. Man City were the presumptive winners and supposed to be top of the table. Everton have been woeful much of the season, so that was sort of reasonable. Anyhow, Everton pulled out a nail biting 1-2 win and Baines had a wonderful match. Defensively sound and some great attacking, instrumental in the first goal and scoring the second. I wish I could play like that. The thing is, Everton won because they dug their heels in and made it impossible for Man City to score. (And Tim Howard had an amazing match as well.)
So while it might seem that I'm going to choke and SLA and TRB will steamroll me into submission (along with the beginning of a new term), I just gotta think of Everton and focus on the goal. We can do this.
OK, so this post is really trite and not very good. Clearly, I'm trying not to feel overwhelmed with the TRB/SLA tag-team. Back to the grindstone.